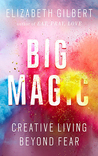 Big Magic: Creative Living Beyond Fear by Elizabeth Gilbert
My rating: 4 of 5 stars
I will admit, at the beginning of this book, I felt like Gilbert was just writing those free spirit, hippie cliches about being your own self and allowing curiosity and wonder lead you. Technically, that is what the book is about, but she delves into this on a deeper level.
The Big Magic is trusting yourself, your art, your genius enough that it will show up when you want to create. Though sometimes it won't. All of this book relies on the idea that you are a creator, and that you enjoy creating, just for the sake of creating. I'll admit, I don't always see creating as fun, but as I continued to read the book, I realized that the moments I don't like creating are the moments I am worried about how other people will take my creation.
I can verify her comments about how children create so easily, only for themselves. I remember sitting outside on the swingset in our backyard making up songs I no longer remember. But I did it because I loved singing and the creation of the song was just an extension of that.
It's one of those books for me that doesn't necessarily say anything original or that I hadn't heard before, but it's a reminder to let go and just keep going. It's a beautiful reminder and a great book for a little pick me up when you are stuck in a creative rut.
You can buy it here on Amazon.
I am a participant in the Amazon Services LLC Associates Program, an affiliate advertising program designed to provide a means for sites to earn advertising fees by advertising and linking to Amazon.com.